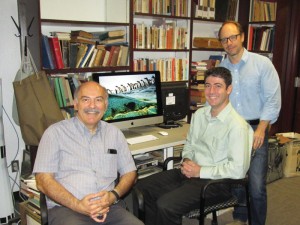 Katrina Bissett
Staff Writer
The Armenian Studies Program at Fresno State is enjoying its highest number of students enrolled in Armenian Studies courses. There are three faculty members teaching: Coordinator Prof. Barlow Der Mugrdechian; Berberian Professor of Armenian Studies Dr. Sergio La Porta; and the newest addition to the Program, Prof. Hagop Ohanessian. Each instructor has a unique history with the Program, sharing a passion for Armenian studies and culture.
Professor Barlow Der Mugrdechian first joined the Program as a Fresno State student in the late 1970s. He was President of the Armenian Students Organization and actively involved with the Program, taking classes taught by now retired ASP Director Dr. Dickran Kouymjian. Der Mugrdechian was intrigued by the Armenian courses he took and decided to change his major to pursue a graduate degree in Armenian Studies at UCLA. Prof. Der Mugrdechian rejoined the Program as a faculty member in Fall 1985, with this semester marking the start of his thirty-first year at Fresno State.
When asked what has been the most dramatic or important change within the Program since he joined, Prof. Der Mugrdechian said, "I think we have now got a Program that is well-established within the university and also recognized both nationally and internationally. All of our General Education classes are full and we have both Armenians and non-Armenians taking the courses."
"We have had an increase in our activities with the Annual Lecture Series-programs, lec-tures, movies, and concerts. It has reached a point where we have more activities than we have had in the past," said Der Mugrdechian.
Professor Der Mugrdechian describes the Program's impact on the community. "All of our faculty have given lectures and presentations in the community. We have an impact because we are an intellectual center for this community, a place where people can go to get answers."
Dr. Sergio La Porta received his doctorate in Armenian Studies from the Department of Near Eastern Languages and Civilizations at Harvard University. He taught at Hebrew University in Jerusalem from 2001 to 2009, and joined the faculty of the Armenian Studies Program in Fall of 2009.
Dr. La Porta lists the activities commemorating the 100th anniversary of the Armenian Genocide as significant events that he has seen take place on campus and within the Program during his time on campus. He specifically named the construction of Fresno State's Armenian Genocide Monument, a project he helped to oversee as Chairman of the Armenian Genocide Centennial Committee.
When asked to describe how the Program has impacted the Fresno community, Dr. La Porta believes that "the Armenian Studies Program is an essential part of the community, and it has had a great impact, both on the university and on the greater Fresno and Central Valley community." Dr. La Porta went on to say that partially thanks to the Program, the Armenians have "become… one of the more recognized communities in the Fresno area." He concluded by explaining how the Program is a great source of information for Armenians around the world.
The newest member of the faculty is Hagop Ohanessian, who began his involvement with the Program as a college freshman in 2005. He completed his graduate studies in the spring of 2014, with a Masters Degree in History, and joined the Program as an instructor in fall of 2014. He is currently enrolled in the Doctor of Education in Educational Leadership Program from the University of Southern California.
Prof. Ohanessian said that the 2007 Armenian Studies Trip he took to Armenia as a student with the Program had a great impact on him. "I'm Armenian, but I'm not from Armenia, so having the opportunity to go to Armenia was a really great experience. I had always learned about Armenia in my classes and from my parents but to go there, that was pretty amazing for me."
"Working with the students has been a wonderful experience. It is great to see students respond to your teaching. It is a good feeling for me to see that students are interested and care to learn something new, and more importantly, about Armenian Studies. It's been great to work with Professors Der Mugrdechian and La Porta, who have been very helpful in this process of getting acclimated and adjusting to teaching in higher education."
The Armenian Studies Program has a bright future with its dedicated faculty.