By Jack Arikian
Staff Writer
Armenian culture dates back centuries, but little is mentioned in historical textbooks. Fresno State prides itself in being one of the very few campuses nationwide that has an Armenian Studies Program.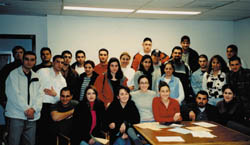 Since its inception, the Fresno State program has provided a unique opportunity for college students to enlighten themselves about Armenian language and history and for most, to learn about their own ancestry. The Armenian Studies Program provides students with historical information unavailable elsewhere. It offers an array of courses covering art, literature, language as well as history. Courses also cover topics such as Genocide, Armenian architecture, miniature painting, William Saroyan, and Armenian film.
Students have the opportunity to earn a minor in Armenian by completing 24-26 units of such classes. The minor in Armenian Studies not only affords an excellent opportunity to gain an academic background on one of the important Middle Eastern minority groups in America, but prepares students for administrative positions in an ever increasing number of Armenian cultural, social, and benevolent organizations.
Furthermore, the Armenian Studies Program offers a generous number of scholarships every year to students who take courses or plan to minor in Armenian Studies.
Students who take courses and minor in Armenian studies have the special opportunity to access information about Armenian culture that is often difficult to locate. The Armenian Studies Program acts as a center of Armenian information in Fresno through its regular lecture series where well-known scholars in Armenian and Middle Eastern Studies are invited to the University to discuss current events and other relevant topics.
The Program encourages students with a minor to enter Armenian cultural or social fields, or continue studies with graduate work in Armenian doctoral programs. Simply stated, the necessity to spread the history of the Armenians is tremendous and the program would like as many of its graduates to be able to spread the knowledge they have gained.
The faculty at Fresno State, Dr. Dickran Kouymjian and Barlow Der Mugrdechian understand the importance of the course content they offer for the intellectual well being of the students and community and do a tremendous job communicating this. They have developed a comprehensive program to provide students with the skills to foster a life-long interest in Armenian culture.