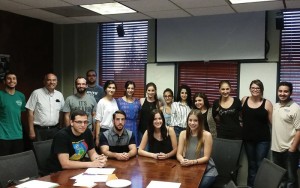 Katrina Bissett
Staff Writer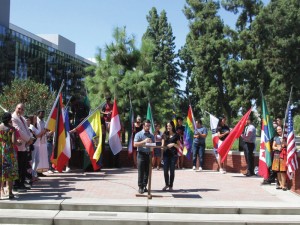 The Armenian Students Organization (ASO) has already begun the new school year with a variety of on-campus and community events. From cultural events to fashion shows, the ASO has represented the Armenian student body with zest and spirit.
The ASO volunteered at the Fabulous 50's & Swinging 60's Car Show on September 19, organized by the Charlie Keyan Armenian Community School of Clovis. The students helped prepare food and assisted with set-up. Students also distributed flyers to promote the premiere of the Armenian themed movie Aram, Aram.
During the campus Cross Cultural Week, the ASO set up a booth on Monday, September 21 to spread awareness among students about the 24th Anniversary of the independence of the Republic of Armenia.
ASO President Lucie Ekezyan and ASO Vice-President Tadeh Issakhanian, delivered passionate remarks in the Free Speech area, celebrating the "strength and perseverance" of the Armenian people in the wake of independence. They gracefully conveyed to the audience the joys and hopes of the Armenian people, along with stressing the need to support and celebrate other cultures.
Hourig Attarian, an ASO member who attended the event, stated "we have such a rich history. It is important for us to share our history, our sufferings, and our culture."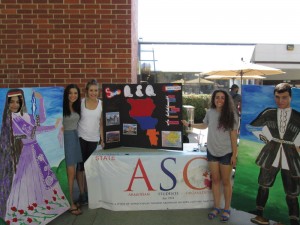 The ASO continued their participation in the Cross Cultural Week by entering the "Taste of Culture" event and fashion show on Wednesday, September 23. ASO members Hourig Attarian, Ani Ekezyan, Lucie Ekezyan, Aramayis Orkusyan, and Michael Rettig had a turn on the catwalk wearing traditional Armenian costumes.
The ASO has gotten off to a fantastic start. Future events will include more academic and artistic education opportunities and a fall social to bring together new students.
Please stay posted for more events. We look forward to a great year for the Armenian Student Organization!