Armen Melidonian
Staff Writer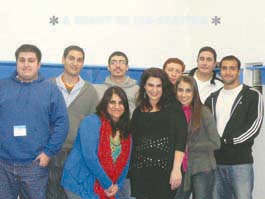 The Armenian Students Organization (ASO) began the Spring semester with several changes and plans for an extensive schedule of events. ASO held its first meeting on Wednesday, January 27, holding an election for an opening in the executive. With the graduation of last semester's President Hagop Ohanessian, the position became vacant and Faten Myaznih-Kassabian, who previously was Treasurer, was elected as the new President. Armen Melidonian joined the executive as the new Treasurer.
Myaznih-Kassabian is majoring in Nursing and pursuing a minor in Child Development and Vocal Performance. When asked about her new role as President, she said, "Becoming President has allowed me to be a stronger communicator. I enjoyed being treasurer, but I believe President is more of what I'd like to be."
Myaznih-Kassabian is aiming to make a difference in ASO. "I want to bring new ideas and plans for our club this semester! I have great confidence and faith in the executives, using their great minds and talents to help in making ASO the best it could be!" She hopes to recruit more members because "It is a wonderful club." Myaznih-Kassabian wants to be a part of a legacy and meet fellow Armenian students. "What better feeling can you have when you're surrounded by your heritage and culture? ASO has so many great events coming up and we want everyone to be a part of it," stated Myaznih-Kassabian.
New treasurer Armen Melidonian is working towards a major in Accountancy and minor in Armenian Studies. "I certainly feel more involved than in my previous semester here. Although last semester was my first semester in ASO, I feel comfortable in my role as Treasurer. I've already been quite involved before, and I feel at home as part of the executive," said Melidonian.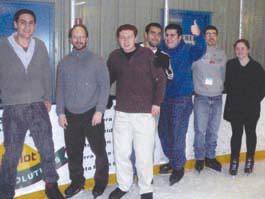 Melidonian would like to "see to it that ASO is always making effective use of its funds. Although there's great emphasis on keeping expenses down and buying as economically as possible, I encourage productive spending and not to sacrifice quality or vision in our projects to frugality. I hope this semester will be productive overall and that there is enough time to get enough of our projects for ASO completed."
ASO held an Ice-Skating event at Gateway Ice Center on Friday, February 12. It was largely successful and a night to remember—many Armenian students attended, including some from Fresno City College.
ASO is involved with an upcoming event on campus, the 11th Annual Armenian Film Festival on Friday, March 5 from 7pm to 10pm. A variety of Armenian films (all in English, but with Armenian themes) of varying length will be shown. Two local fundraisers will be organized for March: one at Me-n-Ed's Pizzeria on March 24 and one at Panda Express in early April.
This year marks the 95th anniversary of the Armenian Genocide and ASO is doing its part in organizing commemorative activities. The members are actively helping raise awareness of the Genocide on campus. The Armenian Genocide Week Committee is preparing activities for April 24th week on campus, to promote public lectures by guest speakers Dr. Bedros Der Matossian, Dr. Levon Marashlian, Michael Bobelian, and Dr. Abraham Terian. ASO is planning a commemorative event with a variety of speeches and songs to commemorate the Genocide and to raise campus awareness of the Genocide. The activities will take place at the Free Speech area on Friday, April 23 from noon to 1PM.
New members are encouraged to join and the involvement of existing members is greatly appreciated. The ASO executives plan to make involvement in the organization enjoyable, worthwhile, and fun.