Tamar Karkazian
Editor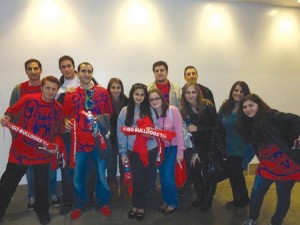 Considering that Fresno State is three-quarters done with the 2010-2011 academic year, I feel that now is a good time to reflect upon ASO's goals and accomplishments. The main goals for the Armenian Students Organization (ASO) for the 2010-2011 school year have been to 1) bring more young Armenians together 2) increase cultural awareness on the Fresno State campus, and 3) to raise awareness of the club in the community. After a relaxing winter break, ASO members got right back into the swing of things; trying to reach their goals.
They started off the semester with their first meeting held at Viktoria's Place restaurant. "We want to make meetings more than just meetings," explained ASO President Tamar Karkazian. "We want to make them more fun—like we are hanging out with friends." Elections for a new treasurer were held at the meeting and after a very close race, Tatevik Hovannesyan was elected.
The month of February was filled with a variety of sports activities. First, ASO students went to a couple of Fresno State men's basketball games. The second game was more special than the first, as ASO took part in Fresno State's attempts to revive school spirit. This game, on February 5th, broke records with attendance announced at over 9,000. ASO students were the first in line to get in to the first-ever basketball tailgate held at the Save Mart Center and they were happy they did so. "We had a great time at the tailgate and game," exclaimed Ani Grigoryan. "I really enjoyed it, especially since we went as a group." Later in February, at the request of many members, ASO headed to a local ice rink. Quite a few members came out to skate and it was interesting to see the varying skills that the members had. "I wasn't planning on going because I am a terrible skater, but I am glad I did. It was a great night," stated Ann Soghomonian.
So far in March, ASO has teamed up with the Armenian Studies Program to host community events. The first in the month was on Friday, March 4th, the 12th Annual Armenian Film Festival. This event was a big hit, as not only were many Fresno State students in attendance, but there were also many members of the community present.
The second event in March was an Armenian Dance and Song Workshop taught by Hasmik Harutyunyan. This workshop, which was cosponsored by the Associated Students, was held on March 5th. More than 25 students were present and eager to learn. "Armenian dance seems easy but involves so much energy," said Lilit Grigoryan. This energy was evident in Hasmik Harutyunyan, as her passion for music shined through with every explanation she gave. Throughout the four-hour workshop students focused on learning traditional Armenian folk songs as well as Armenian dances.
In addition to their holding their own events, the ASO has been teaming up with other youth organizations in the area to organize events together, with the goal of bringing young Armenians together. "We want to revive the Armenian community," explained Zhor Pogosyan. "We want to bring the Armenians together." The first event, which took place in December, was a dance held to collect toys for orphans in Armenia. The 40 plus young people in attendance were asked to bring a toy with them, in place of paying an entry fee. Not only did the students collect two boxes of toys, but everyone got a chance to meet someone new, and to eat, drink, and dance. The second collaboration event, a "Game Day," was held in late February. Although the crowd was smaller than in December, participants still enjoyed the event. "It was great interacting with new people in the Armenian community," explained Arlen Gorjian, from the St. Gregory Armenian Church, Fowler, ACYO. "We had a great time." The most popular games were "Mafia" and "Catch Phrase."
Along with all these fun events ASO is also planning to give back to both the local and Armenian communities. They are planning a project to collect "shoeboxes" of goodies to send to orphans in Armenian.
Keep your eyes open for ASO activities to commemorate the Armenian Genocide in April. ASO is planning on hosting several events during the week of April 25-29th, including a lecture, a vigil, and a movie showing.