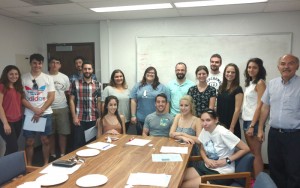 Diana Gasparyan
Staff Writer
The Armenian Students Organization welcomed a new executive body at the start of the school year; Tadeh Issakhanian-President, Elena Sarmazian-Vice President, Diana Gasparyan-Secretary, Molly Gostanian-Treasurer, and Arthur Khatchatrian-Public Relations.
They will bring new and creative ideas, activities, and volunteer opportunities for the members.
Since its inception in 1974, the club has been dedicated to promoting awareness of the Armenian culture on campus.
"ASO is important because the future leaders of our Armenian community will come from this organization. The members learn how to become leaders and how to organize events," said President Issakhanian.
The semester began with members volunteering for the Grandparents' Day Banquet at Holy Trinity Armenian Apostolic Church on Sunday, September 11.
Volunteers sold raffle tickets and helped children fill out family trees for their grandparents. "I enjoyed working with the children as they explored their family histories," said Michael Rettig. "It is important that the youth understand who they are and where they come from."
The first social of the year took place on September 16 at Holy Trinity Armenian Church's game room, the "Hyed-Out."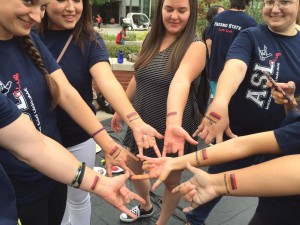 A large turnout of members played foosball, air hockey, pool, and board games with their friends.
"I enjoyed the activities and the socializing. They are important because they allow us to share our culture and heritage together while having a good time," said senior Raffi Apkarian.
On September 21, ASO had a booth in the Free Speech area decorated with posters that gave information and facts on Armenia's 25th Anniversary of Independence.
Members applied temporary tattoos of the Armenian flag, which many students were excited to display.
It was an effective way of getting people involved and raising awareness of Armenia's independence.
ASO will be holding many more exciting events this semester.