Staff Report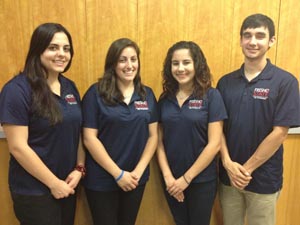 William Saroyan once wrote "For when two of them [Armenians] meet anywhere in the world, see if they will not create a New Armenia." Years later these words still ring true, but instead of just two Armenian students, it's four Armenians at Fresno State.
Denise Altounian, Andrew Esguerra, Tamar Karkazian, and Ann Arpy Soghomonian are not only actively involved in the Armenian Studies Program and Armenian Students Organization, but are also part of the University Student Union Productions, a student-run campus programming board.
These students, along with their colleagues, plan, organize, and host various events throughout the semester. USU Productions is one of the most active groups on campus, consisting of ten committees that strive to develop entertaining and enriching programs for students throughout the year.
By getting involved in the Fresno State community, these students have created a "new Armenia," and have tied many Armenians on campus with USU Productions. This new Armenia has not only brought them closer together, as Armenians, but has also educated their teammates and peers about Armenian culture and history.
Senior Tamar Karkazian, who has been working for USU Productions for the past three years and is now its director, is also Hye Sharzhoom editor. "It is great being involved in both programs because the things I learn in one, I can share with the other," stated Karkazian. Last semester USU Productions organized a "Camp Darfur" event, an informational exhibit on genocide in general, highlighting the Armenian Genocide. The event was organized by Denise Altounian because she realized the impact of genocide and the need to spread awareness.
"I wanted to become a part of Fresno State. I think it's important to get involved with something you enjoy doing," explained Altounian, on why she got involved.
"My favorite part is the people. I love working with the different artists that perform, as well as all the people in our office," said Arpy Soghomonian, who plans a mini-concert series every semester.
The ties to USU Productions positively impacts all the individuals and organizations involved.
This connection provides a means for ASO to get the word out about their events and to reach out to the broader campus community. It also helps ASO members stay informed about fun events happening on campus for students.
By getting involved with USU Productions, these individuals are able to share their culture and heritage with other students who might not have had the opportunity to really learn about it.