Tamar Karkazian
Staff Writer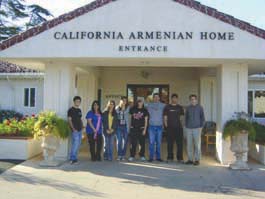 Hi, we are students from the Armenian Students Organization at Fresno State." These words echoed throughout the halls of the California Armenian Old Age Home on a late Saturday afternoon. To get into the season of giving to the community, the ASO has planned several activities, one of which was volunteering at the Armenian Old Age Home.
Eight students visited the Home: Michael Retting, Faten Myaznih Kassabian, Vartush Mesropyan, Marine Vardanyan, Tamar Karkazian, Hagop Ohanessian, Jonah Melikian, and Armen Melidonian. The students spent several hours at the home visiting with the residents. Activities ranged from giving manicures, to playing bingo, or just chatting with residents. After their visit, all the students agreed that it was a great experience and that they enjoyed the time spent there. Senior Jonah Melikian said, "It felt good to give back and the man I was talking to was cool." Vartush Mesropyan, who is a Certified Nursing Assistant, had such a good experience that she would like to work there.
The ASO's volunteer spirit hasn't ended there. The ASO is teaming up with AYF to help them with their annual toy drive. Together they are collecting toys for Armenian Christmas and send them to orphans in Armenia. The toy drive started in mid-November and will continue through the end of December. There are numerous locations to drop off toys, one of which is the Armenian Studies office at Fresno State.
Volunteering wasn't the only focus ASO had for this semester, as they organized a Halloween party to bring the Armenian youth together. The party was held at the Asbarez Armenian Center on the Friday before Halloween and both college and high school students attended. Patil Karkazian declared "I was touched that ASO invited us, high school students, to their activity. It was fun."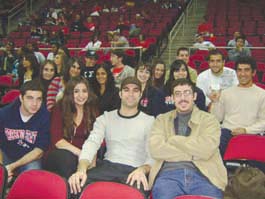 The ASO Executive wants to expand membership in the club. "We want to get as many Armenians together as we can," explained Faten Myaznih Kassabian, "So we went to Fresno City College and invited the Armenian students to participate." The students were happy about the decision. Zhor Pogosyan said "I was glad that they came to visit us, so that we can be part of ASO and meet Armenians our own age. "
Not only is the ASO participating in the Armenian community, they are also participating on the Fresno State campus. They showed their support by going to one of the first Fresno State Men's basketball games. "Watching the game with ASO was a lot of fun," exclaimed Kimberly Santikian. As the season of giving leads to the New Year, the ASO will continue to take part in activities supporting the community.