Suren Oganessian
Staff Writer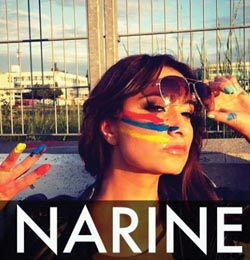 Narine (singer Narine Torosyan) is an emerging synthpop solo act from Poland. She recently created waves over the past summer when the music video to her first single, "Hay Em Yes" [I Am Armenian], premiered on Armenia TV's "Bari Luys Hayer" [Good Morning Armenians] program. The music video is a patriotic track with both English and Armenian lyrics about her connection to her Armenian heritage. The song blends traditional Armenian vocals and catchy riffs with a synthesized electronic beat. In the music video, Narine Torosyan is seen roaming around Yerevan, candidly spreading finger paint on people's cheeks in the colors of the Armenian flag.
Torosyan was born in Yerevan, but has been living in Poland since 1995. In choosing to become a singer she is continuing a family tradition, as many members of her family are linked to the national Opera House in Yerevan. In Poland, she became the winner of the "Chance for Success" program, and she gained a wider audience and notoriety after participating in the Polish reality television program "Bar," which aired on Polsat, a national broadcast station. She was then a presenter on "Music Ring," a music program aired on Poland's TV4.
Having signed onto the record label OffMusic, she is currently preparing for her debut album. Tracks from the album can be heard on her YouTube channel (found at http://www.youtube.com/user/NarineMusic). While singing chiefly in English, Narine Torosyan shows a deep connection with her roots, and anyone who enjoys synthpop or electronic music in general may find much to enjoy in her music.