Andrew Esguerra
Staff Writer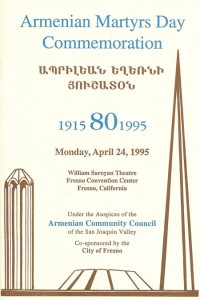 Armenian Studies began at Fresno State with a mere couple of classes just over half a century ago. Today, the Armenian Studies Program is one of the staple such Programs in the United States, offering courses that disseminate knowledge of Armenian language, culture, art, literature, and history to students. In addition, the steadily growing Program, based in the College of Arts and Humanities, advises Hye Sharzhoom, advises and supports the Armenian Students Organization, and lines up engaging speakers from all over the world for its Lecture Series, among many other special projects.
One such newly launched project is the Genocide Ephemera Project. This Project aims to collect ephemera, or printed materials, related to the commemoration of the Armenian Genocide, from the local community.
Armenian Studies Program Coordinator Professor Barlow Der Mugrdechian is heading this project, with the goal of collecting memorabilia focused on the Armenian Genocide. The Armenian Studies Program is seeking posters, photographs, booklets, newspaper articles, programs, and other printed artifacts that provide a holistic view of what has been said and done over the past decades to commemorate the Armenian Genocide in the San Joaquin Valley.
Materials that people may have from previous Genocide commemorations will prove a valuable contribution for this project. In the spring of 2014, commemorations marking the 99th anniversary of the Armenian Genocide will take place throughout the world, making now the opportune time to begin the call for artifacts in time for a planned exhibit of the collection, explains Professor Der Mugrdechian.
Learning about the scope of this project, one can only wonder what ephemera from Genocide commemorations will show about how Armenians of the San Joaquin Valley have changed in the ways they have addressed the Armenian Genocide.
While many types of printed artifacts could prove priceless to this collection, for community members who do not want to part with their memorabilia, copies will be made in the Armenian Studies Program office and the originals returned. Everyone should be encouraged to become a part of this project by contributing.
A collection showing the dedication of the Armenian community to the truth is something that should be on display, not gathering dust. Just as the Genocide is an integral part of who the Armenians are today, so too are the decades of effort to recognize the tragedies that began on April 24, 1915, and that commemorate the loss.
If you would like to participate and contribute materials to the Project, contact the Armenian Studies Program office by calling (559) 278-2669, or email barlowd@csufresno.edu.