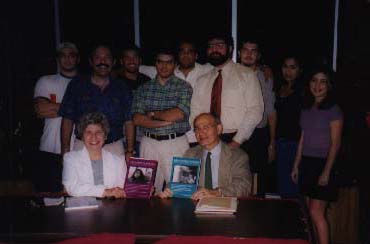 By Jennifer Keledjian Staff Writer
Bringing in a room full of interested listeners and sup porters of the Armenian community, guest speakers Vincent Lima and Ara Sarafian successfully held the attention of the audience for over an hour. The speakers were Vincent Lima, a doctoral student at the University of Michigan and Ara Sarafian, also working at the University of Michigan, who is an expert on Armenian genocide documentation. These young scholars are the editors of the recently published journal, Armenian Forum.
The lecture, co-sponsored by the Armenian Studies Program and the Armenian Students Organization, was held at Fresno State on September 10th. Ara Sarafian spoke about the background of the Armenian Forum. He mentioned that the purposed of the journal was to gather scholars together and encouraging them to publish articles on contemporary issues in the Armenian community. He talked about the stages that they went through in order to produce the journal. He noted that with "hard work and perseverance", the journal has become successful, with a second issue just published.
Sarafian also noted that when it comes to Armenian issues concerning the Armenian people, the Genocide isn't the only topic to be further explored. He stated that one current and important issue is the Armenian diaspora today. These topics are included in the second issue, as well as two other topics: breast feeding in Armenia and Armenian foreign policy. Armenian Forum is committed to a wide range of issues and topics that effect all Armenians and that will increase the level of interest in the journal. The editors of the Armenian Forum are confident that by producing this publication, Armenians will be kept informed.
Vincent Lima informed the audience about the involvement of the Turkish government in the Armenian Genocide and their consistent denial of its occurrence. Lima gave a new perspective on the Turkish denial to many listeners. Lima stated that the denial of the Armenian genocide is actually a "blessing in disguise." The Turkish denial has led to higher motivation in the Armenian community and has given them raw material and determination in fighting the denial. Lima also spoke about debates among specialists of the genocide. He also mentioned the Turkish government's goal in denying the genocide, as well as the issue of Pan-Turkism.
The lecture was concluded by intriguing questions and comments that demonstrated the interest level and attentiveness of the audience.