Evelyn K. Demirchian
Staff Writer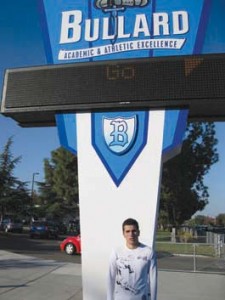 Sixteen-year-old Armenian exchange-student Artak Grigoryan came to the Unites States with several expectations. Never having visited the United States before, and only previously studying for a short time in France, Grigoryan says he expected the United States to be, "beautiful, interesting, and new for me." Grigoryan is here through the World Heritage Foundation's Student Exchange Program, and he has to submit regular projects and papers to maintain his scholarship. He is originally from the city of Sevan, in the Gegharkunik Province of Armenia, located near the shores of famous Lake Sevan.
Attending Bullard High School as a senior, Grigoryan has made many friends and has been enjoying what Fresno has to offer. Studying previously in the south of France, he says there are many differences and that Fresno "is much louder…everything is much newer and cleaner."
There are about 40 Armenian students studying in the United States through the World Heritage program, in states such as California to Hawaii, and each student in the Program works very hard to do well, maintain good grades, as well as enrich their lives with the culture of their newly adopted families and cities.
Asked what he has enjoyed the most about his stay so far, Grigoryan replied, "Fortunately I have a very good host family and school. My favorite part of living in Fresno is being with my host family and going to high school." His host father is Fresno-Armenian Sister City Council Chair Vahagn Bznuni.
An interesting connection between the families is that Bznuni's family was originally from the Lake Sevan region and had left the country the same day Artak was born. "It was really surprising," said Bznuni, "and it makes an even deeper connection between us as Artak."
Much of Artak's time spent here has been with his host family, going out with his host brother, and the new friends he has made at Bullard. "I would recommend the Program to other students for sure, because it is a good chance to visit the United States and improve your English language, and to study about American culture," concluded Grigoryan.