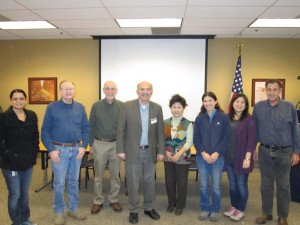 Michael Rettig
Editor
On Monday, January 23, Armenian Studies Program Coordinator Professor Barlow Der Mugrdechian delivered a presentation on Armenian culture to the United States Department of Agriculture-Agriculture Research Service in Parlier. This talk was a part of the USDA-ARS's effort to educate its employees on the Valley's diverse cultures by holding four presentations a year with speakers from various backgrounds. Karen Wells and Jerry Serimian from the Cultural Diversity Committee asked Prof. Der Mugrdechian to speak because "we live among so many Armenians in the Valley, but don't really know about their background."
Professor Der Mugrdechian delivered a PowerPoint presentation to a full room of USDA employees, concisely taking them on a journey through Armenia's rich and ancient history. Der Mugrdechian highlighted Armenia's cultural achievements throughout history, such as the Christianization of Armenia, and discussed current issues facing the modern Armenian Republic.
Armenians have made a significant contribution to art, and therefore Prof. Der Mugrdechian took the audience on a voyage to places such as the Holy Etchmiadzin and St. Hripsime churches. He placed particular emphasis on the Church of the Holy Cross on the island of Aghtamar, which with its rich program of reliefs is considered one of the masterpieces of Armenian architecture. The 10th century Armenian church was built during the reign of King Gagik I Artsruni and is decorated with themes from both the Old and New Testaments.
Der Mugrdechian also discussed how the Armenians had created their own unique alphabet and how that alphabet of 36 letters ushered in an era of learning and progress. Armenian manuscripts were produced, many of them illustrated, and Der Mugrdechian presented examples of Armenian miniature painting by the noted 13th century artist Toros Roslin.
The presentation concluded with questions from the audience, who expressed a desire to learn more about Armenian culture.
After the event, Der Mugrdechian and the audience enjoyed traditional Armenian foods prepared by the USDA employees, adding another dimension to their experience with Armenian culture. Satomi Hiyama prepared khadayif and gata, while others brought lahmajoon, gatnaboor, and other delicious foods.
During the refreshment time members of the audience continued to ask questions and share their connections to Armenian heritage with Der Mugrdechian.