Andrew Esguerra
Staff Writer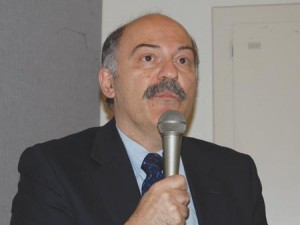 Armenians in America, often find themselves torn between two cultures—the Armenian and the American. They often struggle to find a balance between the two. This struggle is so evident that one can find a reflection of this in Armenian-American literature, beginning with the first wave of Armenian-American authors.
Prof. Barlow Der Mugrdechian, Coordinator of the Armenian Studies Program, and Kazan Visiting Professor for the Spring 2011 semester, presented the first in a two-part series of lectures on "Armenian-American Literature: The First Generation."
By 1924, hundreds of thousands of Armenians, for the most part from the Ottoman Empire, had immigrated to the United States. Many had left to escape annihilation at the hands of the Turkish government.
The tragedy of the Armenian Genocide and the shock that refugees experienced remained largely muted in literature by this first generation of authors writing in America, revealed Professor Barlow Der Mugrdechian.
"Well, the truth is I am both and neither. I love Armenia and I love America and I belong to both, but I am only this: an inhabitant of the earth, and so are you, whoever you are." These words stated by William Saroyan so eloquently state his views on his own Armenian-American identity, and in addition hint at the internal crisis that other first generation Armenian-Americans faced.
As the exodus of Armenians from Turkey and Armenia steadily increased, from 1890 to 1914, many Armenians made their way to America. Life in the United States proved difficult for them. While these Armenian-Americans retained a strong Armenian identity when they emigrated from their homeland, the American culture offered no support for any culture but its own. Life was not easy for this group of people who found their identity put in jeopardy. This theme—of hybrid identity—is what dominates the themes in first generation Armenian-American literature.
The earliest Armenian-American literature, in the Armenian language, portrays the idealized village life to which the authors were accustomed, back in their homeland. Also present in their writings are feelings of exile that came with living in a new place with different customs, language, and a certain hostility towards foreign cultures. The Diaspora Armenians retained their identity by creating religious, educational, and cultural centers to preserve their cultural heritage.
Prof. Der Mugrdechian discussed authors such as Leon Serabian Herald, William Saroyan, Leon Surmelian, Emmanuel Vardanyan, A. I. Bezzerides, Richard Hagopian, Khatchik (Archie) Minasian, Harry Barba, Marjorie Housepian, and Peter Sourian who represent published authors from that first wave of Armenian-American immigrants, before immigration laws were tightened from 1924-1965. Through poetry, short stories, and novels, this generation, born between 1894-1935, wrote in English, though many had achieved little or no acclaim. However they remained inspirational to later generations of Armenian-Americans.
On Wednesday, April 27, Professor Der Mugrdechian will pick up where he left off by discussing the theme of Genocide in the works of second and third generations Armenian-Americans, in a talk entitled, "The Theme of Genocide in Second and Third Generation Armenian-American Literature." That generation of course was influenced by their parents and grandparents, who were the first generation of Armenian-Americans.
Professor Der Mugrdechian's enthralling lecture was accompanied by excerpts selected from the works of the authors, for all those who desired to also see the works penned by our Armenian-American predecessors.
The lecture in April is sure to be just as interesting.