Sarah Soghomonian
Staff Writer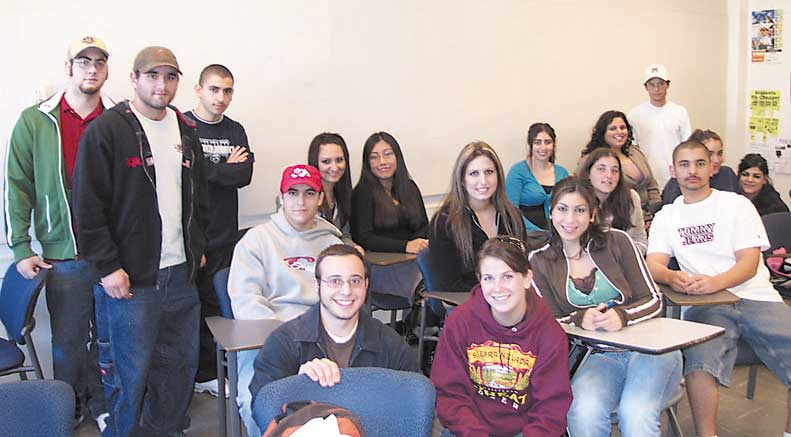 The average language class is commonly filled with students from different backgrounds, but one would think that an Armenian language class would be filled only with Armenians that look and sound alike.
That is not the case with Armenian 1A, an introductory Armenian language course.
Everyone in the class, taught by Professor Barlow Der Mugrdechian, is Armenian, except for two students. But the backgrounds of the Armenian students that fill the seats are very different.
Photo: Back row, L. to R.: Yervant Hovanessian, Bryce Hovannisian, Grigor Kyutunyan, Kyle Torosian, Suzie Pogosyan, Juana Guadian, Christiana Goukasian, Syuzanna Simonyan, Karine Frnzyan, Bernadette Moordigian, Robert Brener, Lena Koujaoghianian, and Knar Mekhitarian.  Front Row, L. to R.: Sevag Jierian, Michelle Arakelian, Ariana Kasparian, and Stepan Kyutunyan.
Michelle Arakelian, a sophomore majoring in Marketing, is from Turlock, Calif. She is a quarter Armenian and no one in her immediate family speaks Armenian. When Arakelian entered the language course she did not know "a single word" of Armenian. She said her cousin, who received a minor in Armenian Studies, influenced her to take the course.
Arakelian said she enrolled in the class not only to learn a new language, but also to learn more about her culture. So far she has learned the Armenian alphabet, basic conversation, and verbs.
One of the best things about the class, Arakelian said, has been meeting people of her ethnicity. "In Turlock there aren't very many Armenians," she said.
Armenian 1A does not just teach students how to speak Armenian, but also how to read and write it. "It surprised me how many people in this class already speak Armenian," Arakelian said.
Suzanna Simonyan, a sophomore majoring in Nursing, is one of the students who already knew how to speak Armenian.
Armenian is Simonyan's first language and it is the primary language spoken in her home. She was born in Armenia and was taught how to read and write Armenian in school before she moved to Fresno. The only problem is she forgot her reading and writing skills. She said she took this introductory language course "to learn how to read and write in Armenian again."
According to Simonyan, it is coming back to her easily, because she already knows how to speak the language. "I'm getting the hang of it," she said. "I learned most of the letters."
Another student in the class is still in high school. Michael Krikorian is a junior at University High School, which is located on Fresno State's campus. "All University High students have to take a college language course," Krikorian said. "I wanted to learn to speak Armenian."
Krikorian's family speaks Armenian, but he never learned. He said his parents mostly speak Armenian when they do not want him to understand. They better watch out because Krikorian is catching on fast. "It hasn't been that difficult," remarked Krikorian. "I think I'm doing OK. I'm getting a good start."
No one stands out more in the class of about 20 than Robert Brenner, a junior studying molecular biology from Camarillo, Calif.
Brenner has no Armenian background, but he mentioned that he has always been interested in European history, which drew him to the course. Brenner also loves to learn different languages, such as German and Spanish.
Brenner has had a "pleasant experience" in the Armenian language class and said that everyone has been every "encouraging and supportive."
Armenian 1A is taught every fall. Arakelian said "I recommend this class for anyone who is interested in learning a new language or a culture people are not familiar with."