Staff Report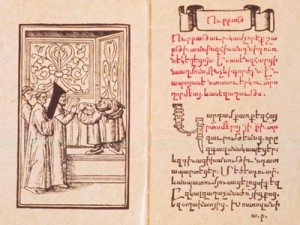 A major exhibition, entitled "Armenia: Imprints of a Civilization," will open in the museums of St. Mark's Square in Venice on December 16, 2011. Hosting the exhibition will be the prestigious venues of the Correr Museum, the National Archaeological Museum, and the Marciana National Library.
The exhibition will mark the five hundredth anniversary of the first book printed in the Armenian language and will be open from December 16, 2011 to April 10, 2012. This exhibition will act as the official launch of the jubilee celebrations taking place in the Armenian capital of Yerevan, a UNESCO World Book Capital for 2012.
Among the distinguished scholars participating in the preparation of the catalog is Dr. Dickran Kouymjian, Haig & Isabel Berberian Professor Emeritus of Armenian Studies at Fresno State, who contributed one of the longest and most illustrated articles on Armenian manuscript painting.
Thanks to the inclusion of several rare and precious manuscripts, another section will offer new perspectives on the development of Armenian historiography, literature, philosophy, science and theology.
An important segment of the exhibition will be uniquely devoted to shedding light on the practical realities of Armenian printing since 1512 and will include fascinating examples of printing in the dense network of Armenian colonies throughout the world. A special emphasis will be placed on the important tradition of the Armenian printing press in Venice, that reached its height of glory with the illuminated enlightened dedication of the academically-minded Mekhitarist Fathers.
The event is being organized by the Armenian Ministry of Culture and the Foundation of Venice City Museums and is promoted by the National Committee for the Celebration of the Fifth Centenary of the Armenian Press (chaired by the President of the Republic of Armenia), the Ministry of Culture of the Republic of Armenia, the Foundation of Venice City Museums, the Armenian Mekhitarist Congregation, the Special Superintendent for Historical, Artistic and Ethno-Anthropological Heritage and for the Central Committee of the Museums of the City of Venice and the Municipalities of the Lagoon Region, the Embassy of Armenia in Rome, and the Marciana National Library.