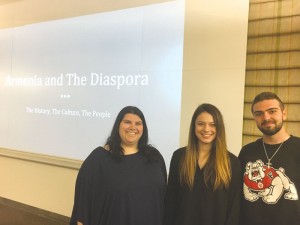 Diana Gasparyan
Staff Writer
At the beginning of the Spring 2017 semester, ASO was invited to give a presentation at the International Coffee Hour (ICH), a Fresno State series that is held every Tuesday from 2-3pm in the Henry Madden Library. The ICH is unique in that it brings people of diverse backgrounds to share their culture, history, and customs with others.
Diversity is a core value at Fresno State and the International Coffee Hour gives students, faculty, and the community an opportunity to learn more about the various cultures. It has been a Fresno State tradition that has been taking place on campus for 32 years, and the ASO was overjoyed to participate.
Three ASO members prepared the presentation: Kara Statler-Vice President, Claire Kasaian-Secretary, and Arthur Khatchatrian-Public Relations. The team first provided the audience a very detailed description Armenia's history and its geography. This gave the audience a clear idea of where the country is and how long it has been in existence. The symbolism in the Armenian flag and in the Armenians the Coat of Arms was also explained.
Photos of Etchmiadzin, Republic Square, Tatev Monastery, Lake Sevan, and other iconic sites gave the audience an idea of what they could expect to see in Armenia.
This then led to a discussion of holidays and festivals traditionally held in Armenia, such as Vardavar, Armenia's Independence Day, and Prpoor. The team shared the meaning and importance of these events, intriguing the audience and generating more curiosity.
What better way to explain the music and dance of Armenia than to show a video showcasing an example of traditional Armenian music and dancing? The presenters also discussed traditional Armenian instruments, such as the Duduk, Kamancha, Oud, and Kanun.
Food is a major part of any culture—mouth-watering images of delicious Armenian foods were shown, causing many members of the audience to ask where they could get Armenian food in Fresno.
The presentation also included a video of how lavash (traditional Armenian bread) is made from scratch and then baked in a tonir.
Then came the discussion of a sad portion of Armenian history, the Genocide.
The presenters explained how the Genocide began, complete with dates and maps of deportation routes.
As the presentation concluded, the ASO Executives answered questions from the audience. Questions ranged from how the economy of Armenia is doing to how the presenters feel about the cultural clash of being an Armenian living in America.
Overall, the ICH presentation on Armenia had a positive outcome.