By Christopher M. Tozlian
Staff Writer
During the last weekend of February, I had the opportunity to attend Dr. Dickran Kouymjian's Armenian Studies 123 class, which was a course on Armenian Architecture. Although I had serious doubts about taking this class, I semi-willfully enrolled assuming that it would be both uninteresting and a waste of my time due to the subject-matter. However, I could not have been more wrong in this assumption; Dr. Kouymjian's class proved to be intellectually stimulating and fascinating because he taught in a way that made me and the rest of the class want to learn more.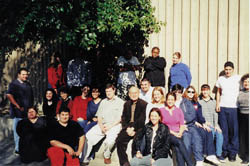 The zeal that Dr. Kouymjian exhibits as he teaches is truly what makes the course interesting. He speaks as one who is fascinated with the subject-matter itself and yet he teaches at the students' level, so as not to confuse them. This, together with his extensive studies dealing with Armenian architecture and his in-depth travels, make Dr. Kouymjian the ideal professor to teach this course. When asked about the Armenian Studies 123 course, fourth-year student Jennifer Keledjian responded, "It was a truly enjoyable course. I learned a lot and it was great to have such a knowledgeable professor teaching the course."
The course itself focused on Armenian architecture, especially churches built in Armenia between Armenia's conversion to Christianity (traditional date of 301 A.D.) and the successful Muslim military campaign against Armenia during the mid-eighth century. Among other church types, we studied a large number of domed-basilica churches, basilicas, and centrally-planned churches, just to mention a few.
By the end of the first course meeting, I was fascinated by the number of students who had taken the course. There were about thirty-five of us and, to my surprise, many were not Armenian Studies minors. This course usually wouldn't be taken by students who don't need Armenian Studies units but this semester a large percentage of the people in attendance came for various other reasons. Some people needed upper-division credits, some people came because their friends had to come, but many came because they had a genuine interest in Armenian Architecture, myself included.
I have been asked since completing the course what I liked most about the course, and to that my response has been that it truly is interesting. I would earnestly recommend this course to anyone who is interested in architecture or interested in learning more about the history of the Armenian people. Personally, I have come to a greater understanding of the contribution that the Armenian architects had on the architectural community worldwide. If nothing else, their ability to suspend stone in mid-air in the form of stone roofs is impressive.
However, a great by-product of this course was that it brought together people that normally would not have met. Upper division courses are usually only taken by students planning to obtain a degree in that subject, or a related subject, but this course brought together students of all ages with very different degree aspirations; this lack of uniformity actually added to the cohesiveness of the group of students and made the course even more enjoyable. Armenian Studies 123, Armenian Architecture, was an excellent course taught by a great professor; it proved to be well-worth my time to attend and complete this course.