By Arpik Paraghamian
Staff Writer
On Tuesday, April 17, 2001 Fresno State's Armenian Students Organization and the Armenian National Committee of Central California proudly welcomed Aram Kouyoumdjian to campus to perform two one-man plays he had written.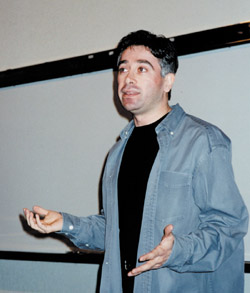 As nearly 80 people looked on, Kouyoumdjian dove into his first performance, "Bedlam." In this piece, Kouyoumdjian was reciting prose, envying a surfer, comparing bedlam to paradise and questioning how things would have been if Eve had not chosen the apple.
"I thought it was really interesting how he [Kouyoumdjian] was relating the human experience to so many things and making such smooth transitions," Raquel Tarpin, 19, said.
A highlight from "Bedlam" was when Kouyoumdjian beat his fist at the air as he acted like a worker in an assembly line. "We are running out of time doing what we are told," he said as part of his sequence.
The second performance, entitled, "Protest" was based on an actual event Kouyoumdjian had attended, a demonstration against Turkish denials of the Armenian Genocide at the Turkish Consulate in Los Angeles.
"What do we want?"
"Justice!"
"When do we want it?"
"Now!" Kouyoumdjian ranted, while beating a black box before he went on describing the events that took place the day of the demonstrations. Kouyoumdjian kept the audience intrigued by jumping back and forth between the reality of being arrested for protesting and the dream of meeting the ancient Armenian goddess, Anahid.
Kouyoumdjian closed this piece singing the same patriotic song he had sung with his friends the day they stood up for justice.
Although Kouyoumdjian brought up some serious topics Armenians could relate to, such as the importance of marrying within their people and recalling the Armenian Genocide, he lightened up the atmosphere by integrating humor throughout both performances.
Kouyoumdjian also does public speaking events but says "Performing is a more engaging way to present my work."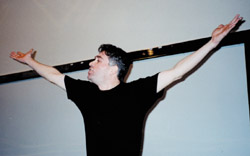 Kouyoumdjian has been performing his solo acts for six years in numerous venues in the LA area as well as Sacramento, San Francisco, and now Fresno. "Bedlam" first premiered in Southern California back in 1996. "Protest" premiered one year ago at the Downey Museum of Art in Southern California.
A recent recipient of the Elly Award for Best Director of a Drama for the Vista Players production of Jon Baitz's "Three Hotels," Kouyoumdjian is also enjoying the current run of his production of "The Substance Fire" at the Actor's Theatre of Sacramento.
As active as he is in all areas of theater, Kouyoumdjian said he enjoys directing the best. "It is a more complete approach . . . you get to create a whole world on a tiny scale."
Kouyoumdjian, who is the co-founder and artistic director of Sacramento's Vista Players, also manages to juggle a career as an attorney in the Sacramento area.
"It's great to see more and more people come out to support and enjoy the events we help bring to Fresno State," ASO Vice President, Sevag Tateosian said.