Sarah Soghomonian
Staff Writer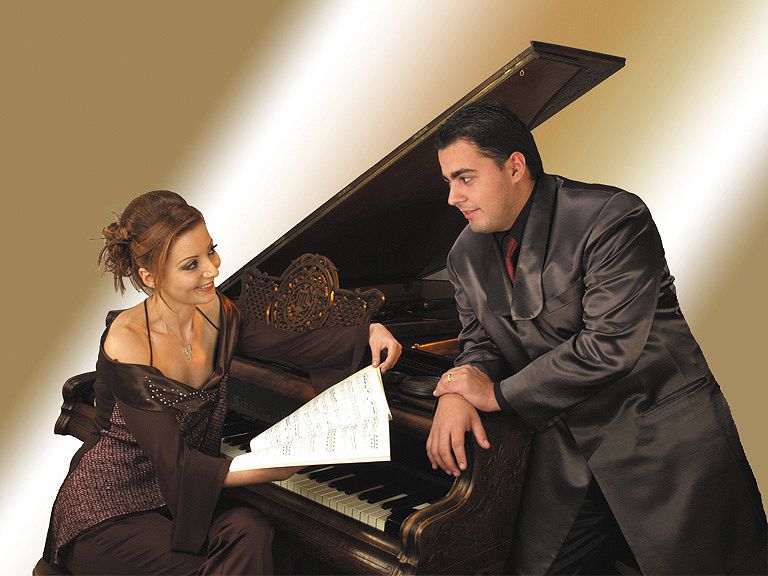 Gianeh and Ovanes Arakelyan are a musically gifted sister and brother duo, who have trained and performed with critically acclaimed musicians throughout the world. Now they are passing their knowledge on to students at their newly opened music academy in Fresno.
The Academy of Classical Music and Art (ACMA) at 4932 N. Cedar Ave. offers classes in piano, violin, guitar, art, flute and music theory. The piano and music theory classes are taught by the Arakelyans. Other instructors teach other music and art courses.
"The main vision of ACMA is to impart excellent music and art lessons to the residents of Fresno County, by inspiring and educating the younger generation and opening the doors to a wide range of imagination, musicianship and creativity," said Gianeh Arakelyan.
The Arakelyans, who perform under the stage name "Duo Maestoso," were first introduced to classical music as children growing up in Armenia. "Since I was a kid I went to concerts and operas," Gianeh said. "That was my life." The Arakelyans were enrolled in piano classes as youngsters. They received training in Yerevan and Moscow before moving to the United States 15 years ago.
Gianeh and Ovanes Arakelyan both earned Bachelor of Music degrees in Piano Performance from the University of Southern California, Thornton School of Music. While at USC, the Arakelyans studied under world-renowned pianist Daniel Pollack. "It was great to be his student," Gianeh remarked. "He taught us all the secrets of how to be an artist."
It was during their time at USC that Gianeh and Ovanes first performed as a duo. They were awarded two gold medals each at the "2004 World Championships of Performing Arts" in Hollywood. The duo performed music from renowned composers, including Aram Khachaturian.
The Arakelyans released a CD, Aram Khatchaturian, dedicated to the centennial anniversary of the composer. Following its release the duo toured throughout the United States and abroad. A highlight for Gianeh was performing on Khachaturian's piano at his concert hall in Yerevan. "We were the first in 30 years to play on his piano," she said. "It was an exciting experience."
The Arakelyans also lived the dream of most musicians—playing at New York City's Carnegie Hall. "It was such an immense memory for us," Gianeh said. While the Arakelyans continue to pursue and release CDs, their main focus now is their music academy.
In July 2006 the Arakelyans moved to Fresno from Los Angeles. "I love the community here," Gianeh said. "Especially the Armenian community. They're so warm-hearted." This past March the Academy of Classical Music and Art opened its doors. "We felt a hunger for richer culture in Fresno," Gianeh said. "We want to change lives by adding music to it. "
The academy offers lessons, including master classes, to students of all ages. The youngest student currently is four-years-old. "It is a great experience working with younger people," Gianeh said. "The key is to motivate and inspire while passing on techniques." For more information about lessons or to purchase a CD call the Academy of Classical Music and Art at (559) 577-8495 or (559) 230-ACMA.