Marine Vardanyan
Editor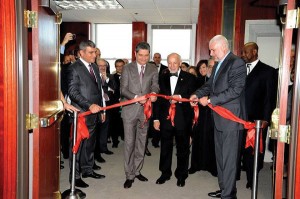 "We are now on Armenian land." These words were declared by the first Honorary Consul of the Republic of Armenia in the United States, Berj Apkarian, during the ceremony marking the opening of the Fresno office on Monday, October 20, 2014. Indeed, the office of the Honorary Consul, located on the eighth floor of the historic Pacific Southwest Building, will be the "Armenian land" that provides Armenian-Americans of Fresno with a direct tie to the Republic of Armenia.
A dinner reception followed the ribbon-cutting ceremony, attended by numerous influential figures from both the governments of Armenia and the United States. Officials in attendance included the Ambassador of the Republic of Armenia to the United States Tigran Sargsyan, Consul General of the Republic of Armenia in Los Angeles Sergey Sarkisov, Deputy Prime Minister of the Nagorno-Karabakh Republic Arthur Aghabekyan, and the Permanent Representative of the Republic of Nagorno-Karabakh to the United States Robert Avetisyan.  Also present were United States Congressman Jim Costa, members of the Fresno County Board of Supervisors, headed by Chairman Andreas Borgeas and Supervisor Debbie Poochigian, California State Senate member Tom Berryhill, Fifth District Court of Appeals Judge Charles Poochigian, and religious and community leaders.
For his first project as Honorary Consul, Apkarian expressed his goal to take a team of medical and dental professionals to Armenia next October to host a medical education conference and provide free care for needy people in rural communities.
"In addition to the project, my goal is to establish a closer tie between the central San Joaquin Valley and Armenia, in all aspects," said Apkarian.
Guest speakers congratulated Honorary Consul Apkarian and the Armenian community celebrated the momentous occasion. During his remarks, Congressman Costa stated, "The Armenian community represents the best and the brightest of the immigrants throughout the generations."
The establishment of the first Honorary Consul of the Republic of Armenia in the United States, in Fresno, is a testament to these words. It depicts the tenacious spirit of the Armenian people who have managed to preserve not only their culture and history, but to flourish and build an Armenian community outside of their homeland.
The establishment of this institution will not only serve to strengthen the Armenian community in Fresno, but will also provide the opportunity to create a stronger connection to the Republic of Armenia. The new Consular Office will provide services for obtaining visas and other diplomatic services.