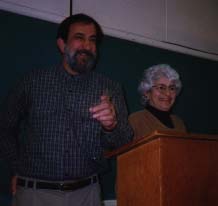 By Jennifer Keledjian Staff Writer
A visit from well-known author David Kherdian and his wife, Nonny Hogrogian spurred much interest, gathering educators, friends and students from the Armenian community together on March 13th at St. Paul Armenian Apostolic Church. The presentation, co-sponsored by the Armenian Studies Program and the St. Paul Armenian Church, titled, "An Evening with Two Authors" included readings from Kherdian's recent novels, telling of personal experiences and background of both Kherdian and Hogrogian.
David Kherdian, noted as an author, poet, translator and past editor, is widely known for his Newbery Award winning novel, The Road from Home, and his most recent novel, I Called It Home. With words that held the audience captive for a good hour, Kherdian's lecture included his childhood years in the town of Racine, Wisconsin, where his colorful life as a child was molded, nurtured and developed.
Kherdian made one feel the nostalgia of those early days gone by. One could see the sights he saw, hear the sounds he heard and smell the inviting smells that he once experienced. The reading of his many works, stories and memories came alive with vivid detail and imagination.
An excerpt from the book I Called It Home, reveals a lot about the true life of the community where Kherdian lived with his own people, who shared the same ideals, values and customs. "Also, we ate the same foods at home, slept under the same covers- called yourghans (woolen quilts), shared the samevalues of frugality, suspicion, common sense, truth telling (within reason), respect for our elders, honesty (up to a point), shrewdness, and, above all, we valued money, education, family solidarity, and love of God."
The well known local author, William Saroyan, played a significant role in Kherdian's life and influenced his style and technique of writing. Saroyan taught him that "all experiences are equal- raw material" and that Kherdian didn't need anything but himself in his writing. Among the interesting anecdotes Kherdian related was about how he met and married his gracious wife, Nonny Hogrogian, who has made his circle complete as an accomplished artist and illustrator of children's books. Hogrogian, who is a three-time recipient of the Caldecott Award for her illustrations, was born in New York City and attended Hunter College, majoring in Art.
At the conclusion of the lecture, Kherdian answered many questions from an interested audience, who afterward rushed to the tables to examine and purchase a good sampling of both authors' works.