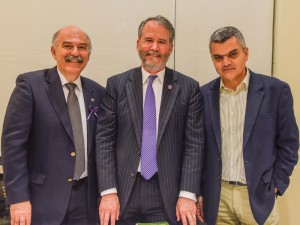 Aramayis Orkusyan
Editor
Former United States Ambassador to Armenia John M. Evans was a guest speaker for the Armenian Studies Program Lecture Series on Monday, April 25. Throughout his career, Ambassador Evans served in diplomatic posts in Tehran, Prague, Moscow, Brussels, St. Petersburg and Washington, and served as Ambassador to Armenia from 2004 to 2006, when he was dismissed from his position for using the word Genocide to describe the Turkish government's policy of extermination of Armenians in 1915.
Ambassador Evans was in Fresno to promote his new book Truth Held Hostage: America and the Armenian Genocide—What Then? What Now?, published by the Gomidas Institute. Ara Sarafian, head of the London-based Gomidas Institute, was also in attendance at the lecture. The book has received much acclaim, with Pulitzer Prize-winning author Peter Balakian calling it "the most important work about the Armenian genocide by a US diplomat since Henry Morgenthau's groundbreaking Ambassador Morgenthau's Story in 1918."
Speaking before nearly 300 people, Ambassador Evans openly gave the audience insight into the United States policy on the Armenian Genocide, the ethical challenge he found himself in, and his decision to speak out, which he discusses in great detail in his book. He first used the word "genocide" in 2005 when he returned to the United States to visit Armenian communities, report on the state of Armenia, and answer questions that concerned diasporan Armenians.
Reflecting on his tour of the diaspora, Ambassador Evans stated, "I knew what I was supposed to say. And I knew that there were no outright lies in those lines. For example, we were supposed to say 'No American official has ever denied the facts of what happened in 1915.' But taken as a whole, these talking points were deeply deceptive, and I knew that."Ambassador Evans was faced with a great ethical dilemma. He knew the historical truth of the Genocide from his readings and study of history. "This is not a question anymore. If you talk to the experts, if you talk to the historians, it's not an open question, there's a consensus on this," said Ambassador Evans. However, the Armenian Genocide was and continues to be a taboo topic in the government. "The issue was so taboo that they didn't even really need to tell us not to use the word because we all knew that we weren't supposed to get near the word," explained Ambassador Evans.
After his use of the word "genocide," Ambassador Evans did not immediately resign from his position, although that was the expected response. Instead, he returned to Armenia and continued his job for another 18 months until he was recalled and replaced. "I wanted to make it uncomfortable for them. If I had just turned tail, resigned, and gone away, it would have simply reinforced the taboo. Taboos have to be punished just to prove that they still exist, but if the person that broke the taboo turns tail and goes away, it even reinforces the taboo more," commented Ambassador Evans.
In Truth Held Hostage, Ambassador Evans not only discusses his journey to becoming an Ambassador and defying his government, but also offers several short and long-term solutions to the issue informed by his insight from first hand experience.
"I think books like these represent an opportunity to influence people in political power. We talk about historical works, but this is a book written by a politician who was in the United States government, and his insight, as you'll read about in the book, represents a very important part of that," concluded Prof. Barlow Der Mugrdechian, Director of the Armenian Studies Program.