Class Report
Talene Karkazian
Class of 2009
Major: Fashion Merchandising
Minor: Armenian Studies
Active in the Armenian Students Organization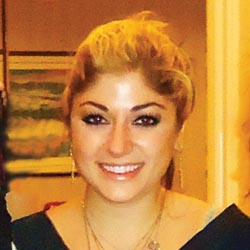 After graduating from Fresno State, Karkazian went on to pursue a Masters Degree in Fashion Design and Apparel, at California State University, Northridge. She is currently working on her thesis, which focuses on the sustainability and upcycling of clothing. Upcycling is a process that takes discarded materials and transforms them into stylish and beautiful garments.
Karkazian has published in the ITAA journal (International Textile and Apparel Association), and won four competitions around the United States. She has traveled to Philadelphia, to Canada, and participated in a competition for Cotton Incorporated. She represented California State University, Northridge at the Canada Hemp Trade Alliance conference with two upcycled dresses made purely from hemp materials.
Along with working on her thesis, Karkazian also creates jewelry from recycled materials, which can be found on Facebook (Meow-Lynn Accessories and Clothing). She is truly thankful to God and her family for all the opportunities they have blessed her with. She also would like to thank the Armenian Studies Program at Fresno State for supporting her throughout the years.