Staff Report
La Storia di Alessandro il Macedone
(The History of Alexander of Macedonia)
Codice miniato armeno del secolo XIV (Venezia, ms. San Lazzaro 424),
Giusto Traina, editor, in collaboration with Carlo Franco, Dickran Kouymjian, and Cecilia Veronese Arslan. Volume 5 in the series "Helios" Collana editoriale del Centro Veneto Studi e Ricerche sulle Civiltà Classiche e Orientali, 2 vols., Padua: Also Ausilio Editore, 2003.
Volume I. Il testo (The Text), pp. 194, size 21.5×31.5 cm, introduction to the text, analysis of the miniatures, translation, bibliography and index.
Volume II. Le miniature, facsimile color reproduction of all 254 pages, size 25×35 cm, plus an appendix of reproductions from other illustrated Armenian manuscripts of Alexander, on separate sheets, boxed in sturdy buckram.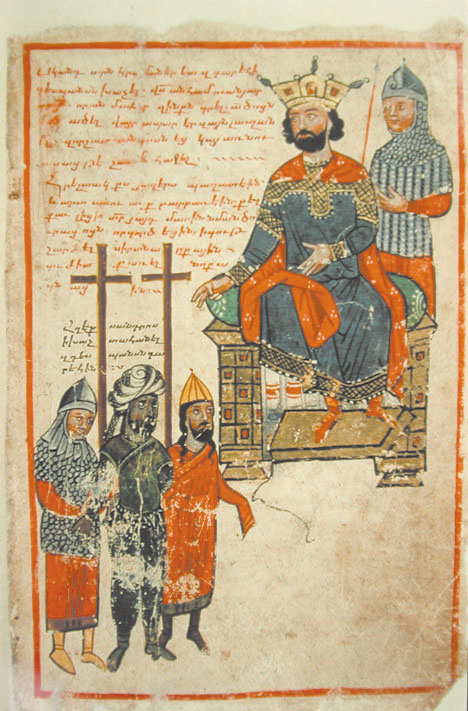 The History of Alexander the Great is a universal work that has been translated into scores of language and adopted by nearly every civilization. The most popular version of the story and the one that served as the source for almost all other versions was composed in Alexandria in the third century by an anonymous Greek author who was later given the name of (Pseudo-)Callisthenes, after a contemporary of Alexander. The Armenian translation of the work is safely attributed to the fifth century, just a couple of centuries after its composition. Scholars of Pseudo-Callisthenes, to establish and check the much later surviving Greek versions, have used it.
Among the more than 80 surviving Armenian manuscripts of the History or Romance of Alexander, the most important and most beautiful is codex no. 424 of the Library of the Mekhitarist Fathers on the island of San Lazzaro, Venice. It was copied and illustrated with magnificent miniatures in the early fourteenth century; the manuscript today contains 128 folios and 85 miniature paintings. The Venice manuscript is also the oldest to preserve the additional kafas or poems added by Khatchadour of Ketcharis at the end of the thirteenth century. These moralizing poems were added to virtually every episode of the History and seem to turn this very secular and pagan work into an acceptable book for Armenian Christians, especially the monks responsible for the copying and illustrating manuscripts in medieval times.
The extraordinary manuscript, difficult of access because of its fragile state (a restoration was carried out in recent years), is now available in its entirety in a luxurious facsimile edition. A companion volume analyzes the text philologically, historically, and iconographically, while providing a diplomatic translation in Italian, including all the kafas of Khatchadour.
The integral publication provides the major resource for the study of the Armenian Alexander and provides historians and especially art historians with one of most famous and important illustrated manuscripts of the entire Christian Orient.
Price: Euro 1.020 about $ 1,190
Available through: Aldo Ausilio Editore in Padova, via A. Da Bassano 70/d, 35135 Padova, Italia; tel. 049.8642829, 049 8642828; fax 049 8642828