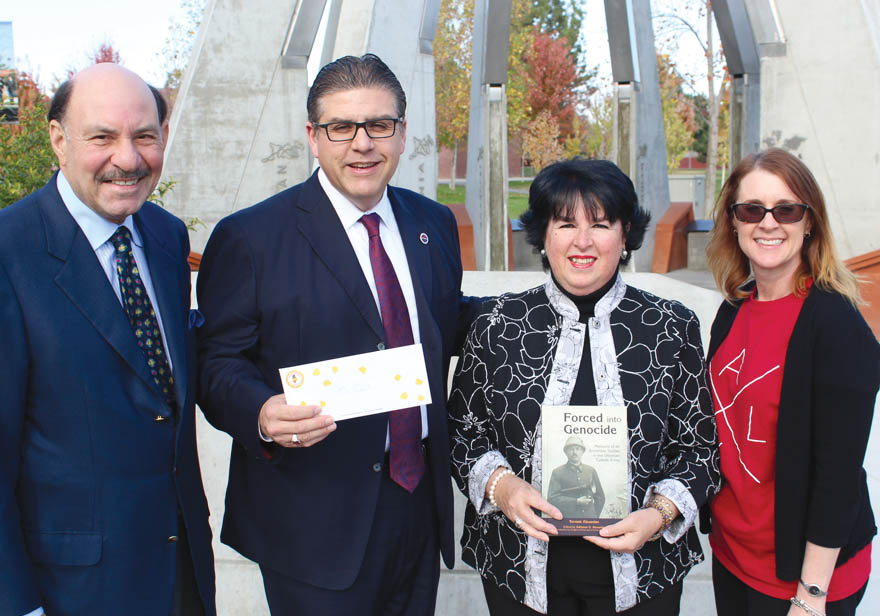 Annie Rubio
Staff Writer
We cannot change the events that led to the Armenian Genocide in 1915. However, we, as Armenians, can choose how we are remembered in the years to come. Yervant Alexanian chose to be remembered as a prolific writer and activist, and was one of the few Armenian soldiers who were conscripted into the Ottoman Turkish Army in 1915 and who survived.
Alexanian's memoir, Forced into Genocide: Memoirs of an Armenian Soldier in the Ottoman Turkish Army (Transaction Publishers, 2017), was edited by his daughter Adrienne Alexanian, who visited Fresno State for a book reading on Tuesday, November 14. Forced into Genocide has received praise from many prominent scholars and has been a valuable means for increasing awareness of the Armenian Genocide.
Dr. Sergio La Porta, Haig & Isabel Berberian Professor of Armenian Studies at Fresno State wrote a moving introduction for the book, which was translated from Armenian into English by Simon Beugekian. Dr. Israel Charny, executive director of the Institute on the Holocaust and Genocide in Jerusalem wrote the foreword to the volume.
The lecture was a collaborative effort sponsored by the Armenian Studies Program at Fresno State, the College of Arts & Humanities, the Department of Media, Communications & Journalism, the Greater Fresno Area AGBU, the Knights of Vartan, and NAASR. Jim Melikian, aka "The Popcorn Man," was instrumental in the planning and the promotion of the event, which drew an over-flow audience of more than 200.
Yervant Alexanian was a prominent member of the Armenian community, and several of his articles had appeared in Armenian publications. Upon her father's death, Adrienne Alexanian discovered his memoirs and realized the importance of her father's story. "I realized it was my responsibility, not only to him, but to my people, to have this published," she stated.
Adrienne Alexanian's thoughts were confirmed by several scholars, who remarked that there were few if any books on this aspect of the Armenian Genocide.
At her book reading, Alexanian noted that the massacre of the Armenian soldiers within the Ottoman army was a prelude to the events that followed in the Genocide. Her father, Yervant Alexanian, was one of the few conscripted soldiers who survived.
"The day my father was conscripted," said Alexanian, "he was prepared to die." However, he was unable to save 51 of his family members who died in the deportation marches. He watched them disappear over a hill, never to be seen again, in what he described in his memoir as the "worst day of my life."
Growing up, Alexanian never heard much about her father's experiences in the Genocide. After reading the memoir, she understood how horrific and traumatizing his story was. "I realized it was a form of therapy for him—writing it down as opposed to verbalizing it to me."
It also gave her the chance to understand her father, and why he cared so much for the Armenian community when he came to America. It was common knowledge that Yervant Alexanian would go out of his way to help Armenians who emigrated to America. He would drop everything to help them find jobs, apartments, even furniture if they so asked.
"I never understood why he would do that for strangers," Adrienne commented. "It was because he was unable to save the members of his family." His life's work was to save Armenians, and with his memoir he will continue to help serve his people.
Adrienne Alexanian's book reading left a deep impact. The detailed experiences from her father's memoir, combined with the images from his journals, stirred up many emotions in the audience. It made the Armenian Genocide a personal experience by seeing the events through the eyes of a man who lived through it.
This memoir gives satisfaction to Armenians everywhere, by adding to the numerous eyewitness accounts of the Genocide that exist today.
"When you have so many memoirs, you can't deny the Armenian Genocide anymore," said Alexanian. Yervant Alexanian's memoir will continue to help the Armenian community in the journey to end denial of the Armenian Genocide.