Tamar Karkazian
Editor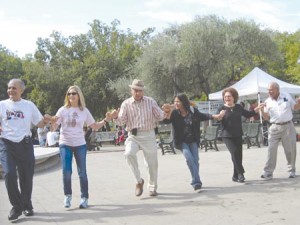 October 22-24 was a crazy weekend for Armenians, with numerous events hosted throughout the three days. There was a dinner dance, a food bazaar, birthdays, weddings, and even an Armenian festival, "A Taste of Armenia."
"A Taste of Armenia" was a free festival hosted by the Downtown Association to celebrate Armenian culture. "There is a large population of Armenians in Fresno, so we thought it would make for a great festival, and who doesn't love Armenian food?" explained Jan Minami, Executive Director. The purposes of the event were to expose the broader Fresno community to Armenian culture, as well as help revitalize Downtown.
"It was great that the city of Fresno hosted an event to honor Armenians. It illustrates the influence we have in the Central Valley," stated volunteer Peter Petrosyan.
Although organized by the Downtown Association of Fresno, it was the Armenian community who helped shape the event. Beginning in late summer a committee came together to plan "A Taste of Armenia." These members came from different Armenian organizations and churches, such as the First Armenian Presbyterian Church, Holy Trinity Armenian Apostolic Church, Homenetmen, the Armenian Students Organization, and St. Paul Armenian Church. It was their excitement and enthusiasm that transformed this idea into reality.
One new idea was the Heritage Room, dedicated to Armenian history and culture. Meant to educate and enrich, visitors had the opportunity to watch a film entitled "The Armenian-Americans," courtesy of the Armenian Studies Program, to learn about famous Armenians, or to look at maps of "Old Armenian Town." Not too far from this room was the Tavli [backgammon] Tent, where beginners and professionals had the opportunity to play throughout the day.
Not only was this a great opportunity for the broader community to learn about Armenian culture, but this event was also meant to provide local Armenian businesses with the opportunity to support their culture. Kebab Express and Viktoria's Place provided those in attendance with delicious food, while vendors were present selling Armenian jewelry and souvenirs.
There were various entertainers throughout the day for everyone to enjoy — for children to grandparents. Children's singer Maggie Tune performed throughout the day, getting the young to come out and dance. Local talent was showcased by the Gayane Dance Group, composed of 15-20 students. Their performance was so breathtaking and graceful that it was hard to believe that it was kids performing. Guests who were inspired by that performance got a chance to learn how to Armenian dance with Fresno native Tom Bozigian, as he instructed people on various dance steps. The renowned Los Angeles-based Element Band concluded the evening, performing various songs in Armenian, as well as other languages.
This was a great opportunity for the Armenian community, to not only come together as a whole, but to also show the broader Fresno community the richness of our culture. "There was a sense of unity within our community that I had not experienced before," stated Zhor Pogosyan. "This was our [the Armenian community's] chance to shine and enrich people's lives and I hope we did."