McGill-Queen's University Press
"Like Our Mountains: A History of Armenians in Canada" by Isabel Kaprielian-Churchill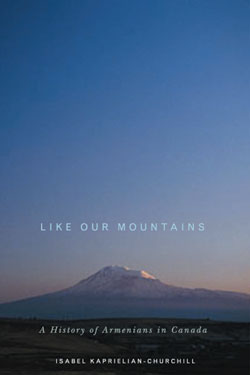 A sweeping social history of the Armenian-Canadian experience that links the Old World with the New against a far-flung diaspora.
McGill-Queen's Studies in Ethnic History
April 2005
The Armenian Genocide that killed 1.5 million people almost 100 years ago is only now becoming part of public consciousness. More than seventy-five thousand Armenians have found refuge in Canada and Isabel Kaprielian-Churchill's elegant narrative is the first comprehensive account of their experience from the late nineteenth century to the devastating earthquake in 1988.
Like Our Mountains relates the history of the Canadian Armenian community from its founding, settlements and economic adjustments, to its social, religious, political and cultural life, transformations over generations, and relationship with other communities in Canadian society. Like Our Mountains examines the cities settled by Armenian immigrants – Brantford before 1914, St. Catharines after World War I, Hamilton after World War II, and Toronto and Montreal from the 1960s to 1988. Kaprielian-Churchill has carried out exhaustive research in English, Armenian, and French sources including archives, oral histories, diaries and memoirs, letters, and material culture. Especially moving are the interviews with survivors of the genocide that provide the book with an emotional intensity rare for a work of historical scholarship.
Written in prose that will appeal to scholars and general readers, Kaprielian-Churchill combines the skills of a historian with the imagination of a novelist in a compelling history of Canada's dynamic Armenian community.
Isabel Kaprielian-Churchill is Professor of Armenian and Immigration History, Department of History, California State University, Fresno. She specializes in the field of Armenian diasporan history.
McGill-Queen's University Press can be accessed at www.mqup.ca