Hakop Tataryan
Staff Writer
On Friday, March 19, 2004 the Armenian Students Organization, along with the Armenian Studies Program and the University Student Union Diversity Awareness Program, put together the 5th Annual Armenian Film Festival, which attracted a large audience. Films screened represented a new and old generation of writers, producers, and directors.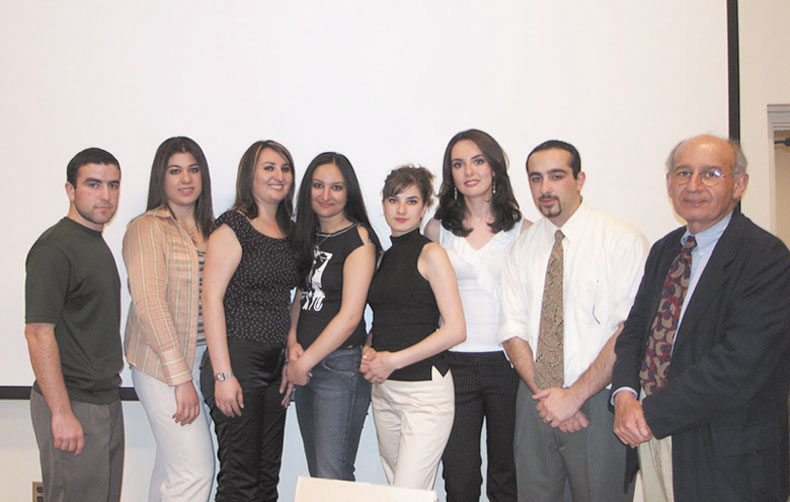 The festival's organizing committee, who chose the films for the evening, were: Barseg Abanyan, Gevork Aristakesyan, Zhanna Bagdasarov, Marine Ekezyan, Kristina Pogosyan, Alyssa Sahakian, and Hakop Tataryan. Dr. Dickran Kouymjian provided much needed insight in choosing the films. Prof. Barlow Der Mugrdechian was also an advisor
Dr. Kouymjian brought a very rare fifteen-minute segment of the very first film made in America about the Armenian Genocide. "Ravished Armenia," directed by Oscar Apfel and produced by W. N. Selig, is a black and white silent film made in 1919, and tells the story of a young Armenian girl who survived the Genocide of 1915. The film was first shown to New York's elite in such places as Rockefeller Center. The fifteen minute fragment is the only known portion of the film to survive.
The four other films shown were: "Veradznount" written and directed by former Fresno State student Arthur Stepanian, "Hamburger and Dolma" directed by Caroline Babayan, "Prison Art" directed and produced by Garegin Zakoyan, and "Embers of the Sun" directed and produced by Zareh Tjeknavorian. After each film was screened, Dr. Kouymjian discussed the films with the audience and provided some historical background.
From the buzz after the festival, it seemed that "Prison Art" was the most popular film of the evening.
Narrated by the director's incarcerated son, this documentary discussed the different forms of art produced in one Armenian prison. The inmates produced a variety of art, from architectural pieces to miniature clay structures. Perhaps the most astonishing aspect of the art was the intricacy and attention to detail.
In all, it was another great festival for those who enjoy films about Armenians. The evening concluded as people critiqued the films with one another, while enjoying pastries and coffee served by ASO members.
5TH ANNUAL ARMENIAN FILM FESTIVAL- FILMS RECEIVED
AUDIT (2001), Director: Spencer Beglarian (U.S.) • THE AURA (2002), Director: Armen Ohannesian (U.S.) • EMBERS OF THE SUN (2001) Director: Zareh Jeknavorian (U.S.) • ETERNAL TRAVELER, Director: Zhirayr Agavelyan (Armenia) • HAMBURGER AND DOLMA (1999), Director: Caroline Babayan (U.S./Norway) • JEWS IN ARMENIA (2002), Director: Vartan Akchyan (U.S.) • JUST DON'T DO IT (2003), Director: Spencer Beglarian (U.S.) • HIDDEN TREASURE (2003), Director: Artin Nazarian (U.S.) • THE LAND OF HOLY RITES (2002), Director: Edgar Baghdasaryan (Armenia) • LIFE IS SWEET, Director: Diana Hakobian (Armenia) • PRISON ART (2001), Director: Garegin Zadoyan (Armenia) • RAVISHED ARMENIA (1919), Director: Oscar Apfel (U.S.) • ROAD FULL OF APRICOTS (2001), Director: Nigol Bezjian (Lebanon) • SENTENCED TO DEATH (2000), Director: Sonia Balassanian (Armenia) • VERADZNOUNT (Rebirth) (2001), Director: Arthur Stepanian) (U.S.)