By Barbara Harutinian
Staff Writer

Films by four young Armenian directors played the big screen at the Alice Peters Auditorium during the 2nd Annual Armenian Film Festival presented by the Armenian Students Organization as part of the Diversity Awareness Program of the University Student Union, on April 20, 2001.
Despite the rainy weather, a large crowd of people came and enjoyed an evening watching films with a wide range of themes.
The evening started at 7:30 p.m. with a film titled Gyumri-Armenia by Maria Hacopian Scott. This 20-minute docudrama of post-earthquake Armenia depicted the hardships that the residents of Gyumri struggle through in their daily lives trying to survive the cold winter snow. Two local reporters speak with those begging in the streets and enter the rundown homes of families who try to decide whether they should spend their money on bread or firewood. This film embodied much emotion that channeled through to the audience.
Morning Execution, a 10-minute film about a woman who takes revenge on a German soldier who killed her lover, was the second film presented at the festival. Directed by Edwin Avaness, Morning Execution took place in France during World War II. This highly serious and suspenseful film was very entertaining to the last bang.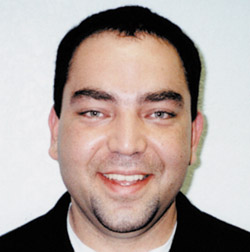 The third film was titled Stream of Social Intercourse by Serj Minassian. Stream of Social Intercourse was a film about a young man with social anxiety disorder and his psychiatrist. Throughout the film there are comical incidents where the young man deals with his problems of interacting with other people, specifically with his fear of interacting with one particular woman. The psychiatrist teaches his client basic skills to help him get over his fears and suggests the client try them out at a party that evening. It turns out that the psychiatrist was also at the party and while in a drunken mess, creates a situation that further strengthens his client's anxieties. Stream of Social Intercourse was Minassian's senior project and it has won six major awards in various film festivals around the country.
The last films of the evening, Pennywise and Regret, were directed by Sarkis Tarkhanian. The film Pennywise is about the exploration of a man's struggle with himself. This film, which had no dialogue, was visually entertaining. The music that went along with the film added an intense touch.
The film Regret was short but very thought-provoking and serious. It was about a character who learns horrible news and commits suicide. At the end of the film, the audience let out a huge gasp when they found out that the horrible news was that the character was HIV positive.
Audience members had the opportunity to ask the directors questions after each movie was screened.
With such great films being shown, the evening came to an end at around 9:30 p.m. Those who attended the 2nd Annual Armenian Film Festival agreed that the films presented were absolutely spectacular and very entertaining.
Talar Atarian, Secretary of the Armenian Students Organization and coordinator of the Film Festival, worked extremely hard in bringing a group of highly talented filmmakers to Fresno State for the evening festival.
Although Maria Hacopian Scott was unable to attend, Talar Atarian read Scott's remarks about the film. Scott was born in Iran and has studied in London and the United States.
Edwin Avaness received his Bachelor of Arts Degree in film production at the University of California, Santa Cruz and a Master of Arts Degree from Northwestern University's Radio-TV-Film Program. Avaness has been an active executive board member of Arpa Foundation for Film, Music, and Arts since 1988, and also a committee member of AFFMA International Film Festival.
Serj Minassian was born in Tehran, Iran and moved with his family to the United States in 1979. He attended California State University, Northridge where he was completing his BA in Electrical engineering. During this time, he was also taking some film courses and later decided to change his major to film production.
Sarkis Tarkhanian was born in Lebanon and was raised in Fresno. He is currently attending the University of California, Santa Cruz where he is majoring in Film and Digital Media. He is now a senior and is planning on attending either USC or UCLA for graduate work.