Staff Report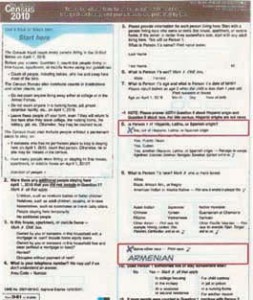 385,488. Did you know that was the official count of Armenians in America according to the 2000 United States census?
Some recent estimates have put the number of Armenians in the United States at over 1,000,000, but the number that will count is that reported by the 2010 United States census.
Census partnership specialist Anahit Tovmasyan was in Fresno, February 11-14, to reach out to Armenian organizations, businesses, and individuals. Her goal was to introduce to Armenians the importance of signing up as Armenians in the 2010 census and to increase the number of Armenians who sign up as Armenian.
The first United States census took place in 1790 to determine the number of seats each state would have in the United States House of Representatives. The census was also created to gain a better understanding of where people lived and to establish patterns of settlement as the nation grew. The 2010 United States census is right around the corner, with applications due to be sent out March 15-20. April 1 is the official census day, when the questionnaires are to be sent back.
Why is it important to participate in the census? There are many answers to this question, but among the most important reasons are: the numbers influence decision making at all levels of government, the numbers are critical in distributing over $300 billion in federal funds and additional state funds to organizations based on the census, political power is also based on the census, and for publishing economic and statistical reports about the United States and its people. Reapportionment of seats in the House of Representatives is still a prime objective of the census.
Make your voice be heard in Congress. For more information about the census in general, go to 2010census.gov or contact Ahanit Tovmasyan at anahit.tovmasyan@census.gov.