Staff Report
The new 2005-2006 Armenian Students Organization executive members were asked their views on a few questions.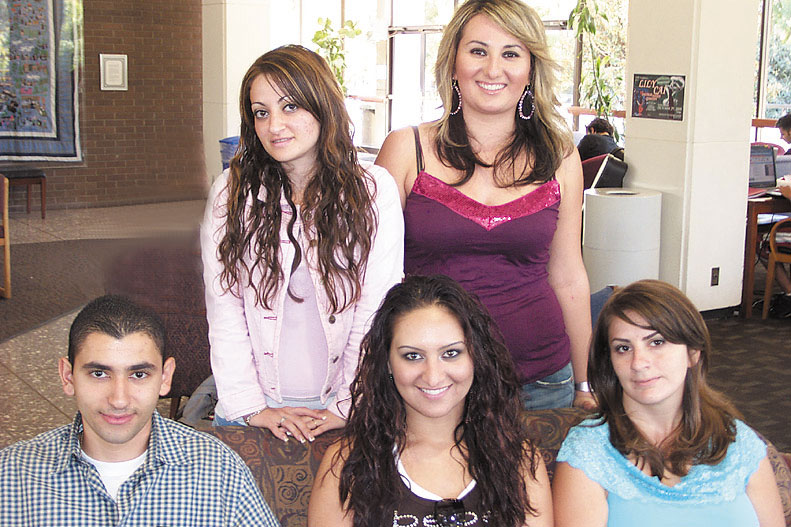 Question 1: What do you hope to contribute to the ASO this year by being on the executive committee?
Question 2: What do you see happening for the ASO this year?
Question 3: How do you hope to increase the membership and do you have expectations from your current or new members?
Question 4: What do you hope to gain from being an executive officer?
Question 5: What is the one thing you would like for members to know about you?
Kristina Pogosyan-President
Major: Criminology; emphasis in victimology
Junior
Career aspirations: I hope to graduate next year and go to law school in the Los Angeles area. I would like to attend Loyola Law School or Pepperdine University School of Law. Once I finish law school, I plan on becoming a real estate or family attorney.
1. As president I hope to unite old and new members together and to make this year one of the best years the Armenian Students Organization has ever had.
2. We have planned many exciting fundraising events. We're arranging a Halloween party and we're planning on taking a trip to one of the beaches in the Los Angeles area to have a bonfire with some of the other Armenian Students Organizations. We would like to end the year with an exciting event. We are planning a winter formal or a Christmas party. As far as fundraising, we are planning a charity event to raise money for the victims of Hurricane Katrina. We also would like to support some of the impoverished communities in Armenia and have a canned food drive for the Poverello House for the Thanksgiving holiday.
3. As far as increasing membership, we are trying to introduce our organization to the Armenian students at Fresno State. We have also passed out fliers in the Free Speech area and use word of mouth to get more members to join. I expect members to go out there and let their friends know about our organization, because I feel that it is the best way to attract new members.
4 . As an executive officer, I hope to make many memories, make life-long friends, and gain career experience that I can use in the future.
5. I would like to let members know that I am a very friendly person and if they have any questions or concerns about anything, I would gladly help them out in any way.
Guyane Frnzyan-Vice President
Major: Business
Sophomore
Career aspirations: Running/Owning my own company
1. As ASO Vice President my ambition is to unite all my fellow Armenians. Like they say, "If you're a true Hye, you'll never say vigh, vigh!"
2. To my knowledge we have a very strong and dedicated executive, who have new, creative, and exhilarating ideas. We all seem to have the same focus and motivation, which creates a strong bond within the ASO. This is how I see the ASO, strong and determined!
4. I would love to leave with an experience that would inspire me to be a better person.
Armine Sargsyan-Secretary
Major: History
Senior
1. Since I am the secretary I plan on keeping the ASO organized and well structured. I hope that my contribution to the group will prove that our organization is for everyone and to show that our group does exist…we want to get the word out.
2. I see enthusiasm throughout our whole committee. We are all very excited about making it an eventful year. We have put many ideas together and will take each event at a time to accomplish this goal. Moreover, I am very optimistic about gaining new members.
3. We have been working on bringing new members to the organization. We set up a table on campus passing out flyers about events and about ASO. We have also been going to Armenian studies classes and informing the students about the club.
4. I hope to gain better leadership and organizational skills. I also hope to build upon our team's cooperation and to learn more about the role I play as secretary. In addition, I anticipate gaining networking and public speaking skills.
5. I would just like members to know that I am a dedicated and hard-working individual. Also, that I am a team player who hopes to better the ASO by holding more events and educating others about our culture.
Grigor Kyutunyan-Treasurer
Major:  Business Administration
Junior
Career aspirations: I plan to work in a business related field to obtain the experience and knowledge necessary to serve the Armenian community and society.
1. I will work with the other executive officers and ASO members by planning fun activities, meetings, parties and much more.
2. I see an increase of Armenian involvement and contribution to the ASO and its activities, especially for the Armenian Genocide Commemoration at Fresno State and the flag raising in front of Fresno City Hall.
3. I hope to increase membership by telling Armenians about the ASO and about the meetings, activities and parties.
4. I hope to gain a sense of responsibility and to contribute to the ASO to the best of my ability.
5. I am proud to be an Armenian.
Suzie Pogosyan-Public Relations
Major: Fashion Merchandising
Freshman
Career Aspirations: My ambition is to graduate from Fresno State and attend FIDM (Fashion Institute of Design & Merchandising) in Irvine, California. Once I finish FIDM, I plan on becoming the next Donatella Versace.
1. I would like to help the ASO become more recognized by the community. Since we have purchased a camera for the club, I hope to take memorable photos to help encourage others to join the organization.
2. Whatever happens this year, we hope that it will change the upcoming years for ASO.  We hope to hold exciting and memorable events. Some of our plans include throwing a Halloween party, a formal event, as well as picnics and fundraisers.
3. I hope to take many pictures that will attract others and help them see what a fun and exciting time we all have as a club. I expect our members to get the word out about our organization.
4. I hope to gain experience that will help me in the future, build many memories, and establish lasting friendships.
5. The one thing that I would like to let members know about me is that I am a very outgoing person.