BS Psychology
Jacqueline is a psychology major who plans on going to graduate school to become a Licensed Clinical Social Worker. The four years Jacqueline has spent at Fresno State have been rewarding and memorable. Her involvement with the Armenian Studies Department, the Psychology Department, and Vintage Days have left her with much experience and many memories. Her most rewarding educational experience was conducting independent research through the Psychology Honors Program under the guidance of her mentor, Dr. Paul Rice. Jacqueline would like to thank the Lord and her friends and family for their strength and guidance.

BA Graphic Design Minor Mass Communication and Journalism
Garo would like to thank: his family for their support, his adviser Dr. Arndt for helping him through the first rough semesters, his graphic design professor Mr. Charles Shields for his inspiration for teaching him not to settle for "just good," and his friends in and out of school for their friendship and support through the years, "You know who you are." Originally from Beirut, Lebanon, Garo wanted to be an artist from day one. In college Graphic design was his calling. After graduation Garo wants to work for a graphic design firm in Fresno and later move to Los Angeles for bigger and better things. In Garo's words, "I thank God for blessing me and helping me complete another chapter of my life. College was the best years of my life, I shall never forget it. But I still have a lot more to learn."

BS Family Law
Crissi is graduating with a special major in family law which involves five different departments. She plans to attend law school and receive her Juris Doctorate. Crissi has always found time outside of schoolwork to be a part of the Armenian Students Organization. In 1996 she was President of the club and has been active in it her entire college career. She also was a part of the Republican club on campus and has written for Hye Sharzhoom a number of times. She looks foward to bigger and better things but she is saddened that she will most likely be farther from her close and personal friend, Aznive Tchapadarian. She wants Az to know that, "Wherever our paths take us in life, Az, I hope and pray that we remain close. I wish you a lifetime full of happiness and good times.

BS Mechanical Engineering
Aznive has been very active in her major as she was Mistress of Ceremonies for the Industry and Student Awards Banquet, She also has received two more certificates for her exemplary efforts, including an award from Senator Jim Costa. In addition to her activities in her major, Aznive was extremely involved in the Armenian Student Organiztion and 1996 she was the Vice President. Currently she is a DJ for Armenian radio every Saturday on KFSR (90.7) from 9am – 12pm. She has written for Hye Sharzhoom and has been a valuable asset to the Armenian Studies Program. She also reminds us all to Ònever give up on your dreams. If you work hard enough, you can accomplish everything. She is effectionately known to many of her friend as ASO Mama, AZ, and Ozzie.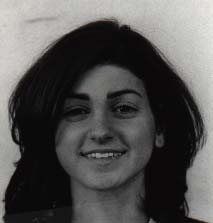 BA Mass Communication and Journalism
Karen Karabian, daughter of Russell and Georgette Karabian, is a 1998 Magna Cum Laude graduate of California State University, Fresno. She will use her bachelor of arts degree in mass communication and journalism to pursue a career in the entertainment indutry. Karen's four-year college credits include Vintage Days director and graphic designer Hye Sharzhoom writer, and Orientation program director.

BS Business Administration-Finance Minor Armenian Studies
David is a finance major who plans on finding a good job here in Fresno. He also is graduating with a minor in Armenian Studies, a very important accomplishment. On April 11th he married a wonderful girl, Anna Atashkarian. The most memorable thing about college for him was the great times he had in the Armenian Students Organization. He has been a member since his first year and has been a very helpful part of many events. He feels school has prepared him for the pressures and stresses of the real world.