Suren Oganessian
Staff Writer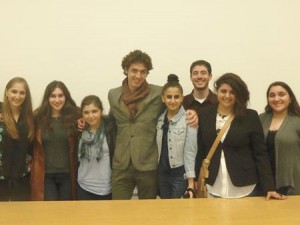 On Friday, March 8, a large audience attended the 14th Annual Armenian Film Festival, considered a favorite by many Armenian Studies Program supporters. Held on the Fresno State campus, the festival showcases little-known independent films produced in Armenia or by Diasporan Armenians.
Funding for the Film Festival is provided through the Thomas A. Kooyumjian Family Foundation. This year the Festival had a special guest, Hayk Hambartsum, director of Metzarents, who answered questions after the screening of his film.
My Mother's Voice, is a documentary featuring the harrowing tale of Genocide survivor Flora Munushian, mother of the film's director Kay Mouradian. Munushian lived in Hajin, Turkey, until 1915, when the Armenians were deported. When stopped at a camp near Aleppo on the way to Deir Zor, She eventually traveled to Boston to marry a man she knew only from a photograph, in hopes of a better future. The film and the story are deeply moving, and Kay Mouradian not only serves as a voice for her mother, but of all victims of the Armenian Genocide.
After Water There is Sand, directed by Saro Varjabedian, is a film where Armenian identity is illustrated through the tale of Tamar, an 80 year-old widow who travels to Armenia with her daughters to fulfill her late husband's longtime goal—to take a family photo in front of Mt. Ararat. The story becomes not just one about the grief a widow feels for the loss of her husband, but the grief that Armenians feel for the loss of their homeland, just out of reach.
The Epiphany-An Armenian Christmas Story is a short film directed by Ella Hatamian. The film follows a wealthy Southern Californian Armenian family whose turn it is to host an Armenian Christmas party. The film is told through the eyes of their teenage daughter, who would much rather be at a party with her friends than be stuck at a family get together. However, chaos ensues during the preparation for the party, with a series of unfortunate accidents nearly ruining the meal they had prepared. Through the experience though, the young girl manages to appreciate her family a little more.
Next was a short film directed by Arshak Zakaryan called The Woman,whichcentered on the conflict felt by a widowed single mother in Armenia, whose only son is about to enter the Armenian army to serve in the Karabagh army. She had already lost her husband and brother in the Nagorno-Karabakh War, and is understandably worried that she will lose her son too. The film is a snapshot of the lives of many Armenian women in Armenia today, and a testament to a conflict that has gone on long enough to where those who were just being born when it started are now fighting in it. The women of Armenia are the unsung victims of the war.
Metzarents, directed by Hayk Hambartsum, featured the story of a struggling Armenian-American actor named Vahag. While practicing to play the role of poet Misak Metsarents in a play, he starts to grow more and more distant from his Korean-American girlfriend Hanna, a fellow actor. Playing Metzarents causes Vahag to reconnect with his roots, and in the process, to begin to question what it means to be happy, and whether or not his relationship with his girlfriend is working out due to the growing rifts between the two of them.
Director Hayk Hambartsum discussed why he made the film and explained that the film had been inspired by real life events, such as his being in a relationship with a non-Armenian, and reconnecting with his Armenian heritage through acting. He came across the poems of Misak Metzarents while researching another Armenian writer, Yeghishe Charents (who in turn was responsible for exposing Soviet Armenians to Metzarents' work).
This year's Film Festival featured strong and thought-provoking pieces throughout, and it has become one of the most endearing yearly events put on by the Armenian Studies Program.

14th Annual Armenian Film Festival
After Water There is Sand (2012) (USA, Armenia), Director: Saro Varjabedian; Aragil, The White Stork (2010) (Armenia), Director: Shirak Kojoyan; Armenian ActivistsNow! Birth of a Movement (2012) (USA, Armenia), Director: Robert Davidian; The Epiphany (2012) (USA), Director: Ella Hatamian; Memory Without Borders (2012) (USA, Armenia, Azerbaijan), Director: Mehmet Binay; Metzarents (2012) (USA), Director: Hayk Hambartsum; MidNight FistFight (2012) (USA), Director: Robert Nazar Arjoyan; My Mother's Voice (2012) (USA), Director: Kay Mouradian; So Far From Home (2009) (Canada), Director: Lorne Shirinian; Voyage to Amasia (2011) (USA, Armenia, Turkey), Directors: Randy Bell and Eric Hachikian; The Woman (2012) (Armenia), Director: Arshak Zakaryan